You just never know what mysteries you will be presented with in your research and how sometimes there is very little to be found about them. Such is the case of John SHELDEN's [John of Kingstown] sheep brand as registered in South Kingstown, Rhode Island in 1705. You might think why does it matter—and perhaps it doesn't. However John SHELDEN and his origins are a long standing conundrum—so faced with such a dearth of information one (at least this one) has a tendency to follow any possible lead.
Before further exploring John SHELDEN's brand, I want to point out the Brand above his, is for a James PERRY which may seem curious as his brand has a S imposed on a P. I suspect that this is because his father Samuel PERRY of Sandwich, MA would have been required to have a "S" for Sandwich and added the "P" and when James moved to South KINGSTOWN he took his father's brand with him. This would not have been unusual as brands tended to be hereditary or passed through families.
Below is the brand of John Sheldon: "John Shelden his Marke is A slit in the Right Eare And A Crop on the Left Eare and A Afore Gad in the Same Eare his brandes JS on the Neare Buttuck". When a J was used on other brands they also didn't have the hook and did have a line through the center, but only John's is topped with a fleur-de-lis.
ON BRANDING
It is claimed that on February 5, 1644, Connecticut enacted the first branding law in the colonies. The act called for livestock owners to ear-mark or brand their cattle, sheep, and swine that were over 6 months of age by May 1, 1644, and to register their marks in the town book. Livestock owners would be fined if found in violation "thirty-four cents a head," with half allocated to the complainer and the other half to the town treasury. Earlier on the 7th of June 1637 the New Plymouth Court, pg 118 "It is also agreed by the bench that all that have not brought in their eare marks of their cattle betwixt this and the next court shall be fyned in default thereof at the descretion of the bench." In 1658 a copy of Plymouth Colony Laws appears in the Rehoboth Book of Law's and it proscribes "the Markes for horses for Distinctions of the Townes ffor Plymouth a P on the neer buttocke, ffor Duxburrow a D on the nere buttocke" and so forth…. Rehoboth Book of Laws pg 84. May 7 1662 Massachusetts records Vol 112, pg 138 General Court Order Approving proposed brand mark and referring the Selectmen to the Law for the ordering and raising of tax in each town. Kingstown records sheep brands beginning in July of 1696. As livestock became more prevalent in an area the need for branding or ear marking obviously became more necessary.
BACKGROUND
The John SHELDEN of the brand above is the son of John SHELDEN Sr. bc 1630, who died between 1697 and August of 1704 when his son John Jr wrote his will [at South Kingstown, RI] and mentioned his "late father". What we know of the Eldest John SHELDEN is actually not very much. The first evidence is 13 October 1652 when John SHELDON [Sr.] and Richard Knight witness a covenant between Peter EASTON and Henry STEVENS, both of Newport, RI. So we can first place him in America is in 1652. When and wherefore he came from is a long standing question. That little Fleur de Lis, just another in an endless list of possible clues as to his origins.
MEANING of the FLEUR de LIS
A possible list of associations
Symbol of the Virgin Mary
Symbol of Purity
Symbol of the Holy Trinity
Symbol of Catholicism in Protestant England
Symbol of French Royalty
Heraldic Symbol
Makers Mark Symbol
I cannot shake the idea that the fleur- de-lis was used on the sheep brand of John SHELDEN for a reason and not because it was just a random symbol that he liked. The intricacy and skill at executing such a brand was beyond any of the others recorded. As a mark is a "symbol" of the owner it suggests in of itself a specific meaning and almost all the marks contained the initials of their owner. So why the fleur- de-lis?
WAS THERE A CATHOLIC CONNECTION?
We know that prior to the reformation under King Henry VIII all of England was Catholic. And afterward except for the brief period under his daughter Mary I "Bloody Mary" (1553-1558) Catholicism in England was either persecuted or barely tolerated. Then came James IV of Scotland who became a Catholic in 1670 and the King of England as James II in 1685-1688. [The date of the brand registration is 1705.] We know that the SHELDONs of Beoley and Broadway were devout Catholics. We know that a Robert GRISSOLD (GRESWOLD), son of John and Isabel GRISSOLD of Rownington, Warwickshire became a martyr to his faith in 1603 when he and a Catholic priest by the name of John SUGAR were arrested. John Sugar had been ministering to Catholics in the area [on foot] and had been saying mass at Baddesley Clinton. More about Baddesley Clinton shortly. At this time Robert GRISSOLD was described as a husbandman and servant to a Mr SHELDON of Broadway. Both John SUGAR and Robert GRISSOLD were sentenced to death. Robert GRISSOLD was given the opportunity to renounce his faith, but he would not and was hung, a slightly better fate than John Sugar who was hung and quartered. Robert GRISSOLD was beatified by Pope John Paul II in 1987. Mr SHELDON of Broadway was likely William SHELDON, Lord of the Manor, who died in 1626. Broadway and Rowington lie a good 25 miles apart so an interesting association that a servant to Mr SHELDON of Broadway should be living in Rowington and attending to the priest John SUGAR. William SHELDON's wealth came in large part from his uncle Ralph SHELDON.
The monks of Pershore owned the parish of Broadway for hundreds of years. In 1533 a disagreement between the Abbot of Pershore and his tenant farmers ensued. Ralph SHELDON was a representative of the tenants to the then Abbot John STONYWELL. They seemed to have had a long standing civil, if not contentious relationship. Three years later with King Henry VIII's Dissolution of the Monasteries Ralph SHELDON became the first lessee and later the land owner of much of the Catholic church's previous land holdings through Pershore Abbey. In 1539 leases of 80 years each were granted by the Abbot of Pershore to Ralph SHELDON for the Manors at Abberton and Broadway.
When Ralph SHELDON wrote his will 28 March 1545 he wrote "oure souveraigne Lord Henry the eight by the Grace of God, King of Englande, Fraunce and Irelande as Defender of the Faith and in the Church of Inglonde and also of Irelande in erth the Supreme Head" and that he bequeaths his "soull unto Almightie God and our Lady Saint Mary and to all the Holy Company", and he directed that "every priest that shall be at my dirge and mass to have 12d, And every clerk that can sing to have 4d, and to other that cannot sing 2d. I will that a priest shall sing for me, my father and mother, my brother William and Baldwin Heath and Agnes Heath's souls and all expired souls, Immediately after my decease five years in our Lady Chapel at Beoley or Abberton at the discretion of my wife and William Sheldon my son." December 25 1570. His remains lie at the Lady Chapel [now known as the SHELDON Chapel] at Beoley and the latin marble ledger reads in part:
"To God, the best and greatest
This marble covers the body of William Sheldon, esquire, whose flame aroused by death returned to Heaven and there amid its kindred stars it burns and shines. He, devoted to his aged father, faithful to an unhappy King, loyal to the religion of his sires, succeeded late in life to a rich estate. Suddenly deprived of it on account of his inviolable loyalty to his King, he never mourned for it, but with equanimity bore its loss during his life. He pleased God by his uprightness; his contemporaries by his courtesy; the poor by his generosity; the world by his goodness."
Of further note is a meeting that occured in Broadway in June 1644 when King Charles I rode through to Worcester to secure the Royalist garrison. He travelled back through Broadway en route to his base at Oxford and spent the night at the home of Mr SAVAGE, a Royalist supporter. [Mr Savage's daughter Ann married William SHELDON's son William about 1619.] In May 1645 King Charles I again was in Broadway and spent the night at the "Lygon Arms" where he met with William SHELDON, the Lord of the Manor. There was a pronounced connection between the gentry of Worcestershire and Warwickshire and the Catholic Church that may have been as much political as ecclesiastical, as seen above. It was not always easy to discern what side one was on and could have dire consequences if not on the correct side.
Due to DNA evidence we know that Isaac SHELDON of Windsor, Connecticut and John SHELDEN of Newport and Kingstown, Rhode Island are closely related and possibly father and son. We highly suspect that Isaac SHELDON immigrated in 1639 with Rev Ephraim HUITT, [perhaps with two sons Isaac Jr and John, both born in England]. Rev Ephraim HUITT was a curate at Knowle and later settled at Wroxhall [booth in Warwickshire] as rector in 1626. In 1638 he incurred the displeasure of William Laud, Archbishop of Canterbury [appointed by King Charles I]. In 1638 Laud commented in a report on Huit: "He hath taken upon him to keep fasts in his Parish by his own appointment and hath contemned (reject with disdain) the decent ceremonies commended by the Church. My Lord the Bishop of Worcester proceeds against him and intends to either reform or punish him." This likely precipitating his immigration to the American colonies where he joined the Rev. John WAREHAM in Windsor, Connecticut. The HUITT family can be found in the Register for the Guild of St Anne for Knowle [Knowle, Warwickshire, England 1451-1541] as early as 1460. The SHELDONs can be found in the same register in 1486.
Wroxhall is the location of the former Benedictine Abbey and Priory. Just 5 miles to the north is Knowle. where we find the Guild of St Anne of which many prominent families of the area were members. The Guild was a religious & charitable association founded in 1413.  At its peak it had over 3,000 members, including senior clergymen and local gentry including the LUCY's of Charlecote, the FERRER's of Baddesley Clinton, the FETHERSTONE's of Packwood, and the THROCKMORTON's of Coughton.   Walter Cook founded in 1416 the College of Knowle, a religious institution providing a communal life for its resident priests.  Both the Guild and College were dissolved at the Reformation in 1547 and their property confiscated. The second Guild register (1451-1535) survived and is kept at the Birmingham Reference Library.  Here we find "Willffi Sheldon et vi eius de Beley" in 1486[transWilliam Sheldon and his wife of Beoley.] Then in 1514 "Thomas Sheldon of Warwick," in 1520 "Richard Sheldon & catryn."
BADDESLEY CLINTON
Returning to Baddesley Clinton the manor originally belonged to the BROME family but at the time of GRISSOLD's arrest it would have passed from Nicholas BROME to his daughter, Constania, who married Sir Edward FERRERs. The FERRERs were Catholic recusants and there were three priest holes [hiding places] at Baddesley Clinton. One off the Moat Room, one leading into a ceiling space and a third in an old privy. 
From the Reformation forward most Catholics considered it too risky to keep records. The earliest extant non-London Catholic register is a priest's notebook for Baddesley Clinton which begins in 1657, but for most places registers do not begin until the late 1700's. Looking closely at the map you can see that Wroxall lies in the province of Wroxall Abbey which was a Nunnery but further back there was a Benedictine Priory of St Leonard going back to 1135.
Here is a window from Baddesley Clinton showing the FERRER arms halved with that of the HEXSTALL. Notice anything interesting?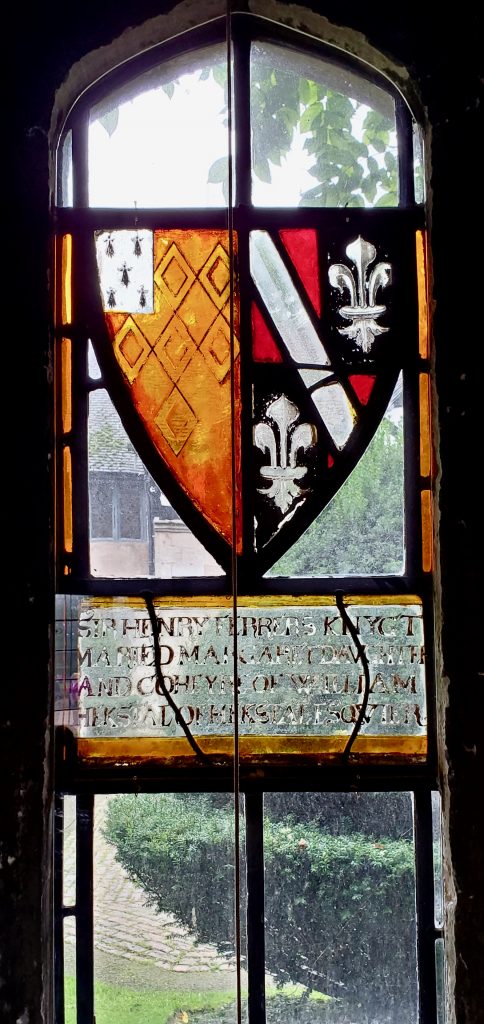 So putting these things together we have these curiosities:
Ralph SHELDON of Broadway benefits from the Dissolution of the monasteries gaining lands at Broadway and
Ferrer's families
Mr [William] SHELDON of Broadway's servant Robert GRISSOLD of Rowington is arrested and hung in 1603 for being unwilling to renounce his Catholic faith and his association with the priest John Sugar who was conducting mass at Baddesley Clinton. [Distance from Broadway to Rowington about 26 miles–somewhat a curious connection]
Rev. Ephraim HUITT of Knowle and then Wroxall emigrates to America in 1639 after being condemned by William Laud, Archbishop of Canterbury
Isaac SHELDON who appears in the Windsor records in 1640 may have come with Rev. HUITT. others that "appear" to have come with him from Warwickshire are Edward GRISWOLD, John BISSEL, Daniel CLARK, Peter TILTON & perhaps John PORTER
William SHELDON of Broadway meets with King Charles I in 1645 at the Lygon Arms which has a "Fleur de Lys over its entrance
Earliest extant Catholic records outside of London are for Baddesley Clinton beginning in 1657
John SHELDEN of Newport is arrested for drunkenness and talking badly of the Lord Protector (Lord Oliver Cromwell–persecutor of Catholics) January 6, 1657.
1705 a Fleur-de-lis adorns the brand of John SHELDEN of South Kingstown, Rhode Island
So at this point we cannot say for certain the meaning of the Fleur de Lys of the SHELDEN brand found in South Kingstown, but one thing we can see are there are some strong Catholic connections and we have lots more to come on early founders of South Kingstown and Windsor Connecticut.
Further References
Hallmarks, Touchmarks and Guilds
Silversmith Jeremiah Dummer of Newbury MA used a heart with his initials inside and a fleur de lys
Guildford-Saybrook Chests commonly used Rose, thistle and Fleur de Lis.
Colonial clay pipes were often stamped with a Fleur de lis
EUROPEAN CLAY PIPE MARKS FROM 17TH CENTURY ONONDAGA IROQUOIS SITES
Hallmarks on Gold and Silver Plate
Thanks to Dale SHELDON who did all the driving on our previous research trips to England and his help with this research. This will also appear as a static page over on my website Wheatonwood.com
Kelly Wheaton Copyright 2021. All Right Reserved.