John SHELDON Lands Sr & Jr
Where John SHELDON (13) of Newport and later Kingstown Rhode Island lived has been a bit of a puzzle that we have worked on over the past couple of years. After a recent visit to the Town Hall for South Kingstown located in Wakefield Rhode Island. [And if that isn't confusing enough the property is now in West Kingstown, not South Kingstown. Oh yes those jurisdiction issues again!] However after my exploration I felt confident enough to reach out to the current land owner. It is now clear to me that I got it right.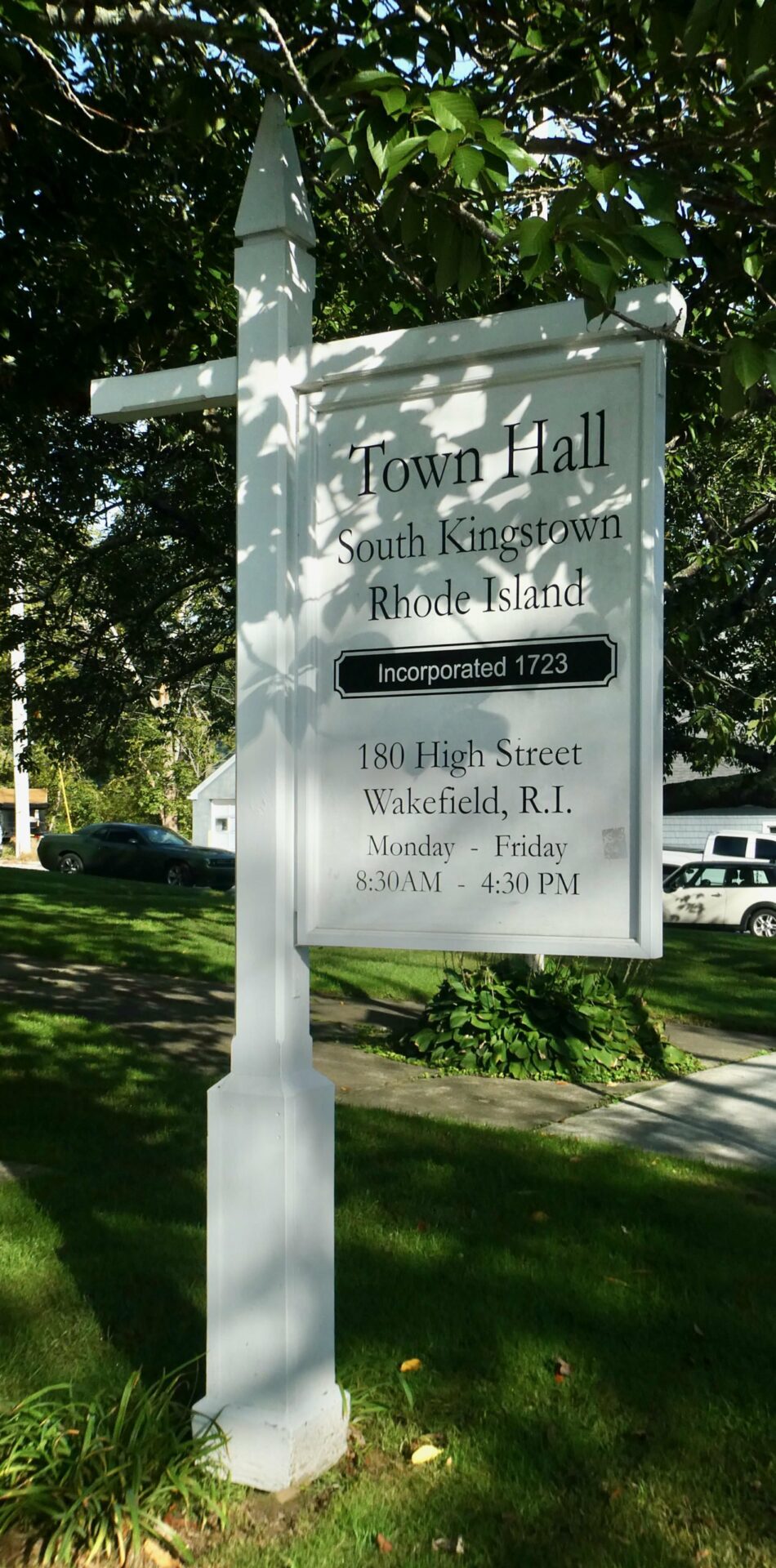 You never know when you write a letter to a land owner how it will be received or if you will ever hear back. Not only did I hear back, but I also had a delightful phone call with Tom. Since I live 3,000 miles a way I arranged for another SHELDON cousin to visit at his invitation. Never underestimate the power of human contact over just written records—it's the stories that make the difference.
The original John SHELDON Sr. [aka John 13] purchased property in Kingstown 22 Sep 1671 and recorded 26 Oct 1683 from Benjamin CONGDON to John SHELDON of Narragansett Country, Planter, for seven pounds being 33 acres of a larger parcel had by CONGDON 22 Sept 1671 from William BRENTON, Benedict ARNOLD, John HULL, John PORTER, Samuel WILBOR, Samuel WILSON and Thomas MUMFORD ( the original Pettaquamscutt Purchasers). This parcel is reflected on this map in red.
South Kingstown RI part of E.R Potter's 1835 Map
This property is located north of the current Liberty Lane and Shown on map above being transected by Chickasheen Brook. My guess is that the house was probably located on the map where we see B.C. GARDENER which may be at the end of the current, Shickasheen Way [Note change in spelling. No house from that time frame is standing at this location.] This link will take you there on Google. 
John SHELDON Sr only had one surviving son (that we know of): John SHELDON Jr. On October 20, 1687, John Jr. bought 230 acres of land near the Pettaquamscutt Purchase for 7 pounds from Benjamin CONGDON being "the land granted to me [CONGDON] by William BRENTON, Benedict ARNOLD, etc". This is the parcel seen on above map to the west of his father's parcel and labeled Wilson Arnold No 1. Please note there is a J. SHELDON and a SHELDON Hill on the above map. John Jr died in 1705 and John III died about 1732. So the J. SHELDON of the map is an even later SHELDON. What it does, is establish that SHELDONs were living on SHELDON Hill as late as 1835. Now to the tricky part where is this today? The southern edge of the property line is south of Liberty Lane and the parcel is transected by RI Highway 2 . Here is the annotated map Tom sent me:
According to Tom the old house that stood about 150 feet west of the Narragansett Trail was built in 1691. He remembers riding his bike up Sheldon Hill as a boy of 8 and usually turning around before reaching the house; summoning a bit more courage each time. The house was 2 story white shingled and had a center chimney. In 1691 this would have been John SHELDON Jr.'s property. John SHELDON Jr's will is dated August 15, 1704 and was proved on January 16, 1706. So he likely died in December of 1705 or very early January of 1706. Jan 13, 1706 John SHELDEN III appeared in administration of the Estate of his father John SHELDEN Jr as seen below.
This is just below the above—the beginning of John SHELDEN Jr's will as recorded on page 10 ot the North Kingstown Record Book.
In his will John SHELDEN Jr wills: "unto my eldest son John Shelden [III] the Dwelling House I now live in With all the Land there into belonging being bounded as a Deed of said Land Expreses With all the privileges and Appurtenances there unto belonging or in Any wise Appertaining." This may be the 33 acre parcel first acquired. The will goes on: "Item I will unto my Son Isaac Shelden the one halfe or Moity of a Trackt of Land which I bought of Henry Hall. Said Land Lying in Kingston and bounded North Northerly in Part on land now in the use and occupation of ye Widow Crandall. " The following map shows the land of Crandall to the West of the Benedict Arnold parcel. I believe the house shown as Mr Wilcox would be the same as that which Tom speaks of being built in 1691 and which I have marked as the Sheldon House in red.
So we can establish that somewhere between 1835 and 1870 the Sheldon House and property pass out of the hands of the SHELDONs to WILCOX. It appears to have been occupied by Hiram DOYLE and more recently belonged to Daniel BRAYMAN. It was burned down in 1977 by the then property owner because it was deemed unsafe, before the property was acquired by Tom. The Narragansett trail would have been a major trail of the native Narragansett people and then later used by the European settlers as well. The house was previously a Way station or Inn. Thank you to Sissy Walker for visiting Tom and sharing the photos below.
By the time Joe bought the property there were 7-8 rock wall enclosed fields. Here is an example of two walls one constructed long ago and one Tom constructed. Photos courtesy of Sissy Walker.
There are 3 grave lots on the property and more details about them can be found on the Rhode Island Cemetery Commission website. They are:
SKA40 SHELDON – SMITH Lot Walled with nice entrance stones. Only one grave marker with visble marking (concrete) for Dorothy PARTEKA died 20 Feb 1936. However in 1880 He found one stone with the date 12 March 1832 presumably a death date and eleven other rude stones.

 

SK199 Daniel BRAYMAN Lot 12 burials 220 feet SW of foundation 45 X 25 feet no enclosure no inscriptions Has visible mounds and Head and foot stones. 1/2 of graves are infants.

SK200 UNKNOWN Lot 3 burials Located just off the Highpoint of Narragansett Trail. NE of house foundation. Field stones with no engraving. Stone wall enclosure with one wide step stone on South corner lot 25 X 15 feet
There is one additional lot off Liberty Lane which would also have been on SHELDON property
SKA37 SHELDON LOT Located off Liberty Lane "on land of John G. Clarke north of his house on corner of lot two graves… both with rude stones. On the opposite side of wall a burial yard now plowed down that of slaves of his family." This lot was destroyed in the 1937-38 when Route #2 was constructed. According to Carl CONGDON as told to Tom the Sheldon Cemetery and the Baptist Church at Waites's Corner had to be moved. Originally it was probably north of Liberty Lane as that is where the CLARKE property was located. Formerly known as SK 572. Whether the graves were moved or plowed under is not known.
Photos courtesy of Sissy Walker.
Liberty Lane connects directly to Hwy 2 aka South County Trail. Off Liberty Lane is Holly RIdge Lane which you can take North to also connect with Hwy 2. This would have been part of the SHELDON property as well. These are photos I took there. The two hundred and 30 acres of John Jr plus the Thirty-33 acres of his father John Sr encompass a fairly large area currently transected by Hwy 2, Liberty Lane and Holly Ridge Lane.
Finally we should mention the CLARKE property shown on all three of the above maps and remained in the CLARKE family for many generations. In 1885 the Honorable John G. CLARKE II, who was a Clerk of the Supreme Court from 1865-1883, built the standing stone mansion in 1885.
John G. CLARKE House on Liberty Lane
Returning to John Jr's will. "Item I will unto my said son Isaac Shelden and to his heirs forever the one halfe or said Land except twenty acres of Land Which Was formerly Given unto my Son in Law Daniel Sutherland and the residue of the Whole Trackt being equally divided from North to South the Westermost thereof I give unto said son Isaac. With A dwelling House that stands thereon and all the privileges and benefits thereunt belonging from as aforesaid. Item I will unto my son Joseph Shelden the Eatermost Halfe of Moity of said Trackt of Land unto his heirs forever With all the Rights and Profits thereunto belonging. " [Note John Jrs daughter Elizabeth Sheldon marries Daniel Sunderland before 1704 .] It is my understanding that this is the large 230 acre parcel as shown on the first map as Wilson Arnold No.1. Isaac having inherited all but twenty acres of the Western half and Joseph the eastern half. This places Isaac on Sheldon Hill and his brother Joseph in the area of Holly Ridge Road. Further research in the Deeds of South Kingstown may yield more gems. 
Granted following old deeds and wills is not easy but I think we can be reasonably assured we have found the early lands of SHELDONs in South Kingstown Rhode Island [now lying in the jurisdiction of West Kingstown]. Heartfelt thanks to Tom and Sissy and my partner in crime Dale Sheldon!
Resources used:
Land Records

Wills

Many versions of Old Maps

Recent maps including Google

Cemetery Records

Personal Interviews
Kelly Wheaton © 2022 All Rights Reserved 
First published on Wheatonwood.com