Today is Thanksgiving. In the past I've most often spent the day with family and/or friends, often with an American football game playing somewhere in the background – an uncle or two watching, with baking and preparing happening in the kitchen, mixed with regular laughter, the munching of chips, and friendly gossip. A kaleidoscope of happy sounds and intoxicating smells. This year I am most thankful for those memories and to just have the day off from work – for a change! (haha) This past year has been exceedingly difficult working for a cruise line working its way back out of a global pandemic. The only sounds in the house today are the unusually loud snoring of my cat and The Tudors playing on TV. I'm taking this day for a much needed respite and the meditative effects of genealogical gophering.
Two interesting things happened yesterday that have prompted todays musings. The first, and the primary subject of this Part 1, was the arrival of a new Sheldon artifact. A detailed sketch of the Monument to William Sheldon and his wife (Mary Willington) in the Lady Chapel (aka the Sheldon Chapel), at St. Leonard's Church, Beoley, Worcestershire. It was delineated by H. H. McConnal in 1887 and published in "The Builder", 14 Apr 1888. The monument itself dates to about 1570/1571.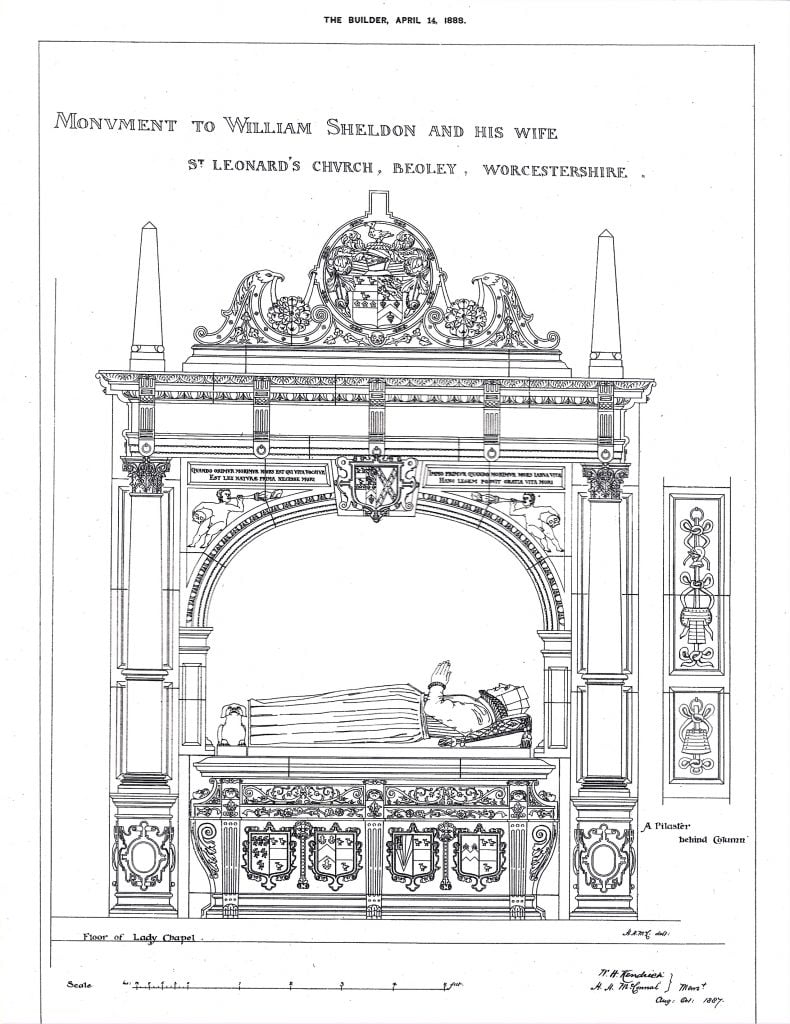 The second was a question from cousin Kelly in the evening. If you're not already aware, she and I are in near constant contact bouncing theories and ideas off of each other – although I must admit that it has been heavily balanced on Kelly lately, she has been an absolute powerhouse of research and I am exceedingly grateful for the headway she has made. We try our best to keep each other honest in our gophering and to not be overly zealous in any particular goal, but to just follow the evidence as best as possible. We have often commented over the past few years that, in our pursuit in finding the English origins of Isaac Sheldon of Windsor and John Sheldon of Kingstown (the two closely related per yDNA testing), we keep being pulled back to the same small part of England – Worcestershire and Warwickshire. The question was simple and completely loaded. "If you had to put money on it, where would you say Isaac and John came from?" In contemplating my answer, but not wanting to keep her waiting, I dived into the webbed tree in my head and picked a spot that seemed the most likely to me. My answer, my subsequent research with some surprising new discoveries last night, and it's connection to the monument above, will be in Part 2.
Back to the monument! Kelly and I had the pleasure of visiting this monument in person a couple of years ago during one of our research trips to England. The sketch, or any photo, really doesn't do it justice. The entirety of St. Leonard's Church is idyllic, the modern congregation is eclectic and progressive, and I am forever grateful to them for preserving this great remnant of Sheldon history and to the vicar who began the preservation work in the 1880's. It's interesting to think that the monument was already 300 years ago when the efforts began, and another 130+ years have passed since then.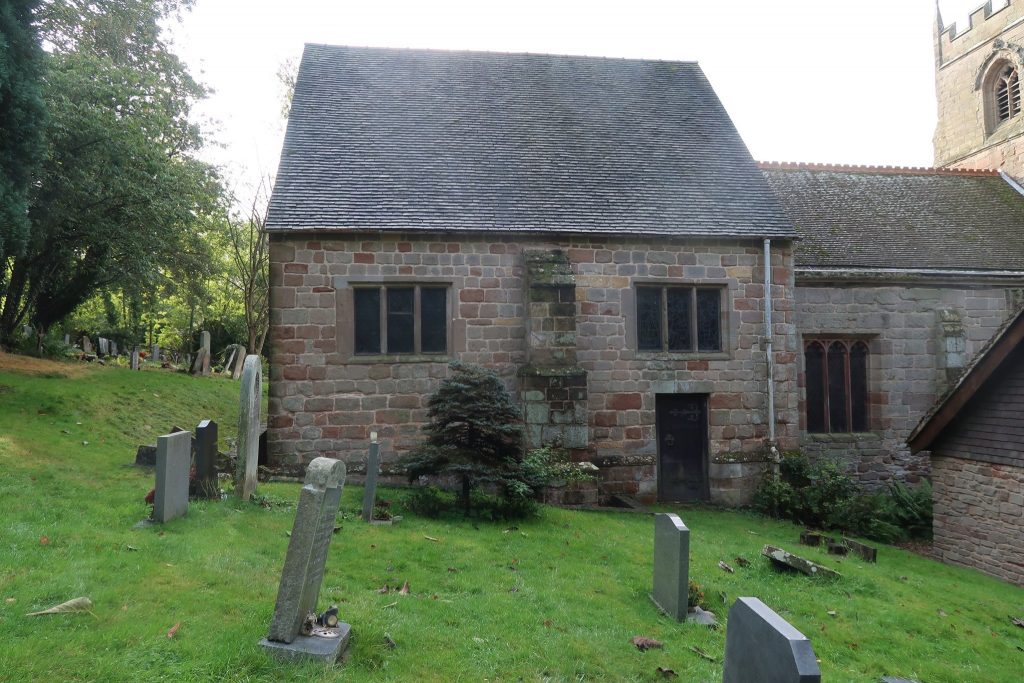 The Lady Chapel, in the photo above, was added as a private chapel for the Sheldon's after the creation of the Church of England by King Henry VIII in 1534 and before the death of William in 1570. This allowed them to continue in their Catholic faith while still, technically, attending a Protestant church, St. Leonard's. The door, also pictured, was the entrance that the Sheldon family took into the Chapel, it having a direct path to their manor house nearby.
When the sketch was published in The Builder, there was also a brief article. As it's long since in the public domain I'll include it here:
SHELDON MONUMENT, BEOLEY CHURCH, WORCESTERSHIRE

–

The village of Beoley lies about three miles from Redditch, touching the boundary line between the counties of Worcester and Warwick. The church stands on a steep ascent, from the summit of which is to be gained a view of as charming a country as can be seen anywhere in the Midlands. The building is mostly of fourteenth-century work, and consists of nave and aisles without clearstory, western tower, chancel approached by a flight of five steps under a low Norman archway, and on the north side of this the Lady-chapel, containing the Sheldon memorials.

–

The manor of Beoley formerly belonged to the great Beauchamp family, but was sold in the time of Edward IV to William Sheldon by Lord Latimer, grandson of Elizabeth Beauchamp, Lady Latimer, the daughter of Richard Beauchamp, Earl of Warwick.

–

The Sheldons were, doubtless, a branch of the ancient house of Sheldon, of Sheldon, in the Hundred of Hemlingford, in Warwickshire, but their descent is directly trace from Richard Sheldon, of Rowley, county Stafford, from whose second son, Maurice, was descended the William Sheldon, of Balford Hall, who purchased the Beoley estate from Lord Latimer. He died in 1517, and was succeeded by his brother Ralph, whose son William is the Sheldon of the monument illustrated. This William Sheldon was a man of considerable note in his day, and is said to have introduced the manufacture of tapestry into England. He died at Skiets, an adjoining mansion in his possession, December 23, 1570; and was buried in Beoley with great pomp and ceremony, the heralds coming down from London, January 15, 1571. The monument was erected by his son Ralph, who also, according to Nash, "built a handsome chapel adjoining to the church of Beoley in the same style with that of Judge Berkeley at Spetchley." He died March, 1613; and on the death of another Ralph in 1684, his brother Edward, a Benedictine monk of Douay, having declined the succession, the estates, worth at that time 3,000l. per annum, passed to a cousin, Ralph Sheldon, of Steeple Barton, Oxfordshire, whose descendants retained them, the last of the family dying in London and being buried at Beoley in 1822.

–

The Lady Chapel measures about 24 ft. by 19 ft. 6 in., and is interesting as having been erected during the Transition period. The cast window of five lights shows a curious attempt by the Renaissance workmen to reproduce Perpendicular tracery. The monument to William Sheldon and another to his son Ralph, somewhat similar in design (an ornamental sarcophagus bearing effigies of the squire and his lady under an elliptical archway, having on each side detached shafts supporting an entablature and surmounted by a florid shield panel), but poorer in detail, are built in the wall between the chancel and the chapel. There can be little doubt that the monument illustrated was the work of Italian artists, who probably lived in the village during its execution, as the stone was obtained from a Worcestershire quarry. The stonework was originally elaborately decorated, but the colure, both of the ornament and of the shields, have been all but obliterated. The stone altar of the Lady-chapel, a fine one of pure Italian work, is said to have been a gift from the Pope to Squire Ralph, c. 1580

–

The monuments are in a fair state of preservation, but the roof of the chapel is in an exceedingly dilapidated condition. The vicar is hoping to obtain sufficient subscriptions to effect such repairs as will preserve the memorials from injury, and to restore the chapel, now used as a Sunday School, to its original purpose of sacred worship.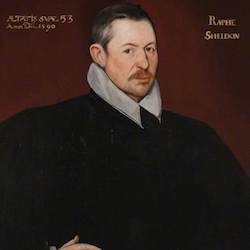 And, finally, what I originally intended to write about. I knew I would get to it eventually, but a little background never hurts. My research question: How we can use monuments, such as this, as genealogical documentation? In addition to the name and dates etched in these stones, always helpful and already common to us – there is the addition of various coats of arms. These arms, although unidentified on the monument itself, can tell us both the ancestry and partial descent of William Sheldon. They are included in three parts and we'll go through each from top to bottom.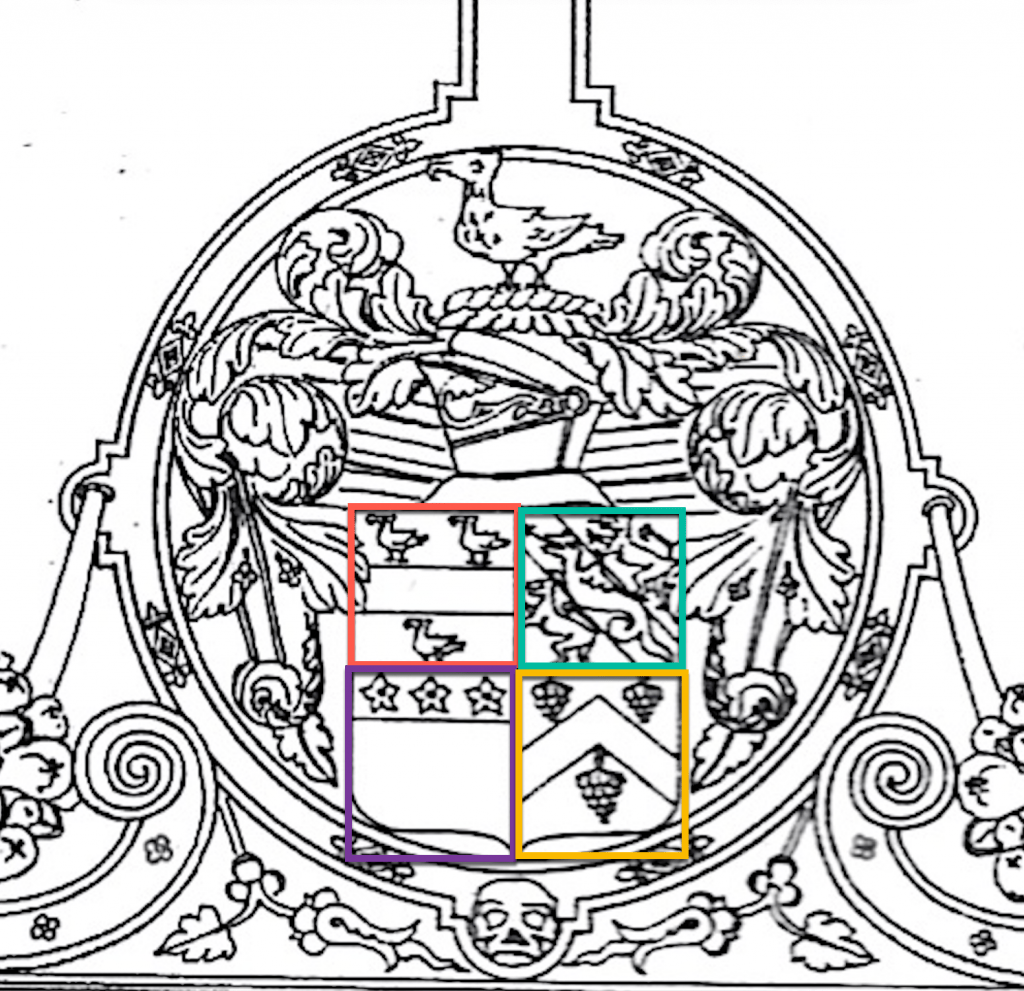 In Image one we have four coats of arms quartered into a single shield. At the top of the monument, they represent a place of honor to William Sheldon's ancestry, the four arms of his four grandparents – his grandfathers on the left and his grandmothers on the right. They are as follows:
Red: SHELDON, "Sable, a fess between three sheldrakes Argent". In modern English this can be described as a black shield with a silver bar across surrounded by three silver sheldrake ducks. The sheldrake was a large duck, now since extinct in England, and was a play on the name Sheldon. This represented William's paternal grandfather Ralph Sheldon.
Green: RUDING, "Argent, on a bend between two lions rampant Sable a wyvern volant of the field", two lions on either side of a two-legged dragon. This represents his paternal grandmother Joyce Ruding. While we don't know who her father was, the arms are specific to the Ruding's of Hussingtree. Her father was most likely the William Ruding of that family that inherited land in Feckenham near Beoley, he was likely also the name sake of Ralph and Joyce's eldest son William, uncle and namesake to the William of this monument.
Purple: HEATH, "Vert, on a chief Argent, three cinquefoils Azure", three blue five-peddled flowers on a silver band over a green shield. This represents William's maternal grandfather Baldwin Heath of Ford Hall.
Yellow: GROVE, "Argent, a chevron between three pineapples pendant Gules". They don't really look like pineapples to me but I suppose not many had seen a real pineapple in the 16th century. This represents William's maternal grandmother Agnes Grove, daughter and heir of John Grove of Ford Hall. Ford Hall was a moated house just three miles from Beoley after the county boarder in Warwickshire, near Tanworth-in-Arden.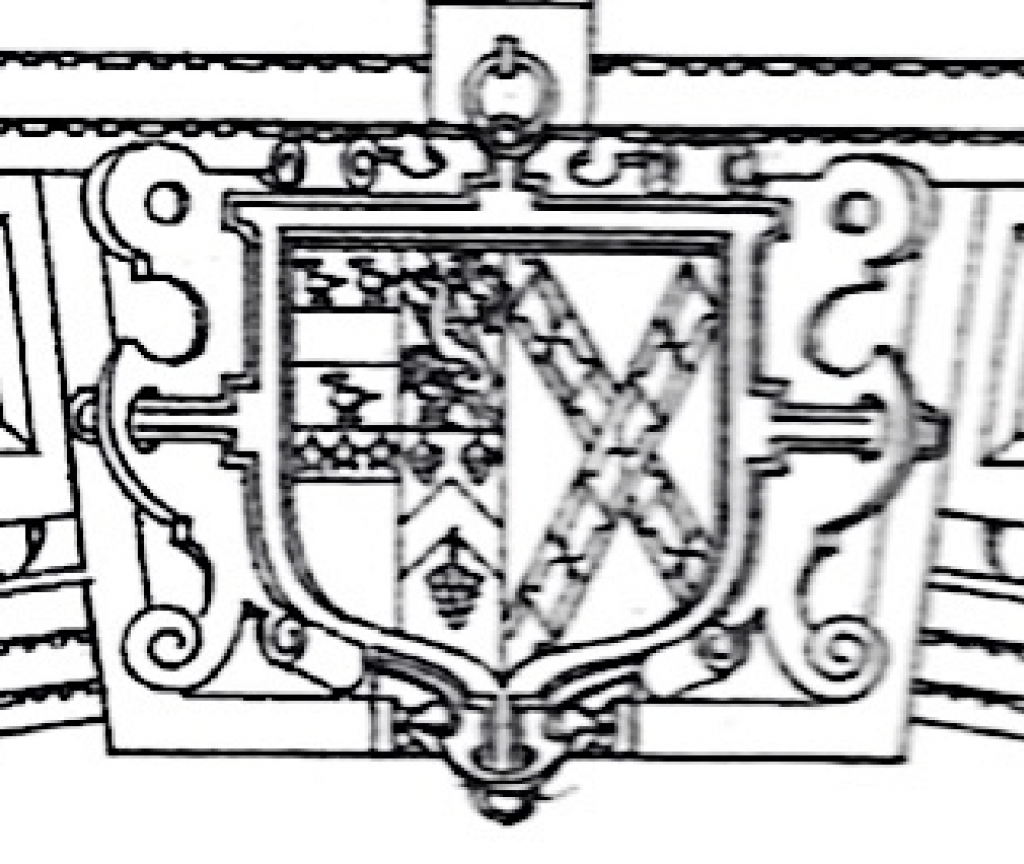 In Image 2 we see the same four quartered arms of William Sheldon representing his left side of the shield. However, now it is combined with the arms of his wife, Mary Willington. She was the daughter and co-heir of William Willington of Barcheston. An incredible alabaster effigy to he and his wife, which includes the arms of their many daughters and their husbands, is located in the church at Barcheston. Here you will also see the Sheldon coat of arms to representing their daughter Mary.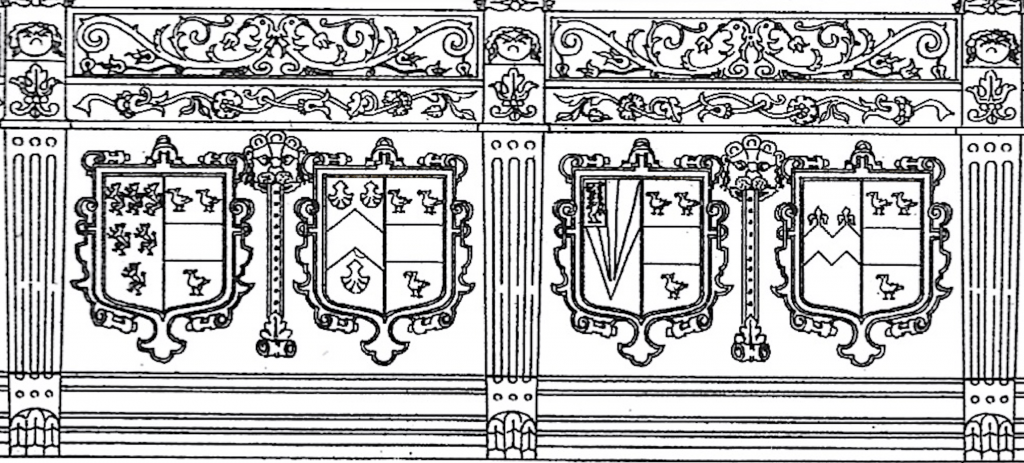 This one was a tad more difficult I was not already familiar with the families listed here as I was for William, Ruding, Heath, and Grove. But what we can tell immediately is that these are the arms for the four daughters of William and Mary. We know this because in each example the Sheldon arms, with the three ducks, are on the right side of the shield. It just so happens that William and Mary had exactly four daughters. If any of them had been on the left they would represent a son. William and Mary did have two sons who lived to adulthood, but their shields are likely represented elsewhere on the monument. A third son, Francis, died in infancy. I will likely write a follow up post with the additional inscriptions, with translations from Latin, written elsewhere on the monument that aren't visible in this sketch.
Thankfully, however, it wasn't to difficult to figure out who these arms belonged to due various histories written on this family. But if you weren't so lucky to have this information ahead of time, a search of the arms would help you with the identification, which in turn could lead you down to paths of research to learn more about a family. We'll identify these by number from left to right.
The arms with the six lions represent the family SAVAGE. Their daughter Anne Sheldon (c1528-1619), married first to Francis Savage of Elmley Castle, and later to Anthony Daston.
The arms with the three shells represent the family POLLARD. Their daughter Philippa Sheldon (c1532-1606) married Anthony Pollard of Newnham.
The unusual arms with the burst represents the family BRAYN/BRYAN. Their daughter Goodith Sheldon (born c1540) married Robert Brayn/Brayne/Bryan of St. James, Bristol.
The arms with the two fleur-de-lis over chevrons represent the family PLOWDEN. Their daughter Catherine Sheldon (c1535-1570), married Edmund Plowden of Plowden near Bishops Castle, Shropshire.
So there we can see how a single monument can give us information on four generations of a family. This is about it for tonight but please stay tuned for Part 2 as promised! I will start writing now but probably won't be able to publish until this weekend. Have a wonderful holiday everyone!
Dale Sheldon Copyright 2021. All RIghts Reserved. 
[/fusion_text][/fusion_builder_column][/fusion_builder_row][/fusion_builder_container]