Return to: Biographical Profiles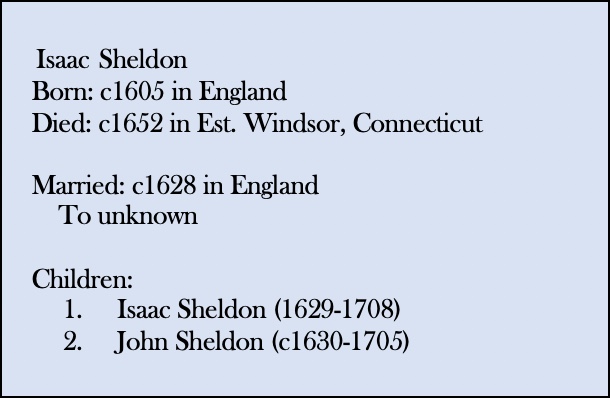 Very little is known of this Isaac and, in fact, we only have one direct record for him.  A page in the original land books for the colony at Windsor, Connecticut dated 11 Jan 1641 (originally written as 11 Jan 1640 in the old calendar).  The page includes a series of undated land purchases by Isaac until about 1652, at which time his son Isaac Jr seems to have taken over the estate and would shortly afterward remove to Northampton, Massachusetts.
For over a century this Isaac was accepted as an American progenitor and the father of an Isaac and John, as listed in the Sheldon Magazine (1855).  In 1890 Hezekiah Sheldon began to cast doubt on the correct date of the 1641 record due to his assumption that all of the records must have been written at the same time, and that the last of them could not have been purchased before 1650.  In 1926 this all changed further when a genealogist named J. Gardner Bartlett attempted to find the origin of the Sheldon family in England.  Seeing a large Sheldon family in the Derby area, this researcher assumed that Isaac must be from this family.  He then found a will in which an Isaac Sheldon is named as a grandson – and the researcher could find no other Isaac's in England at the time – so he further assumed that the two must be the same.  However, there was a significant problem.  The Isaac in the will was a child, and could not have been the Isaac in the Windsor land record in 1641.  It was then hypothesized that the child Isaac named in the will was actually the Isaac that removed to Northampton later, whose year of birth is solidly documented to c1629, and that the earlier and older Isaac didn't actually exist.  The 1890 doubts of the 1641 date were then used as further evidence to support this conclusion.  Despite several disagreements with this line of thought – it took hold and Isaac was erroneously believed to be the son of Ralph Sheldon and Barbara Stone of Derbyshire, England from 1926 until recently.
We can now very confidently say that the original belief in the existence of this elder Isaac was correct.  There are two major points to support this.  First, the Y-DNA profile of the direct male line descendants of Isaac of Northampton – via several different branches – are a perfect match to the descendants of John Sheldon of Kings Town, Rhode Island during the same period.  They are not a match to any of the Sheldon lines out of Derby.  Second, a marriage record has been found for Isaac Sheldon in Manchester, England that clearly identifies him as the same Isaac, son of Ralph Sheldon of Derbyshire.  This Isaac in Manchester married, had several children, and died in Manchester, buried at Collegiate Church, with several points of documentation to confirm he could not be the Isaac in Massachusetts or Connecticut.  Finally, a more detailed analysis of the land records dated 1641, prove conclusively that the four entries could not have been made at the same time – and therefore the first entry was almost certainly dated to Jan 1641 as noted in the document.  Please review the link to the 1641 land records below with further, more detailed, insight into this conclusion.
We can now estimate some general facts about our Isaac Sr of Windsor.  We can estimated that he was born in about 1605, based on his son Isaac being born in 1629 – that year of birth being determined by his age recorded in later records.  Looking at the history of the Colony at Windsor, and knowing that Isaac is not included in the records of the early Dorchester Colony that founded Windsor in 1639, we can estimate that Isaac arrived at Windsor in 1639 or 1640.  Considering that Isaac immediately purchased a large plot of land in the original land allotments, and that he still would have been a relatively young man of about 35 years of age, with two young sons at a minimum – he must have arrived with a group which would have supplied him with immediate acceptance and trust in the Colony.  The only group that is known to have arrived at this time was that of the Rev. Ephraim Hewitt, a minister from the West Midlands area of England where, perhaps not coincidently, a large and influential Sheldon family can be found.  How Isaac connects to that family is not yet known, but it is almost certainly the case and is a line that we are currently pursuing.  It is also interesting to note that a family tradition passed down several branches of the family showed that Isaac arrived with the Rev. Hewitt.
We do not know who Isaac's wife may have been or how many children he had apart from two sons – Isaac and John.  Although there is no direct documented link between John of Kings Town, Rhode Island to the two Isaacs, the family story was that a son went to Rhode Island and – as previously mentioned – the Y-DNA profile of the descendants are a perfect match to each other.  It should also be noted that the two sons both seem to have stepped out into their own independence at the same time – in 1652 – suggesting that their father, this Isaac Sr, may have died at this time or shortly before.  Leaving an inheritance of land and money to his sons, they both made new lives for themselves and both can be found with unique documentation that gives insight into their lives.  While Isaac Jr began living with a young friend, Samuel Rockwell, and promised the colony elders to not be idle – John moved to Newport, Rhode Island where soon after he is arrested for drinking at a friends home and speaking poorly of the Lord Protector, Oliver Cromwell.
Hopefully, as time passes, new documentation will come to light which will give us a more solid foundational understanding of this Isaac.
Family Links
Parents: unknown
Wife: unknown
Children:

Isaac (1629-1708)
John (c1630-?)
Documentation
Related Blog Posts for Further Reading
Please note that these articles, listed here in chronological order, have not been altered and show our process in researching Isaac.  They may include errors and previously thoughts based on the information at hand at the time they were written.