A Special Blog Post by Jan Barrett
Sheldon Genealogy thanks Jan Barrett for providing some photos of Sheldons in her line (which are now posted on our Sheldon Photo Wall as well as this interesting story about the Sheldon Cemetery in Canada.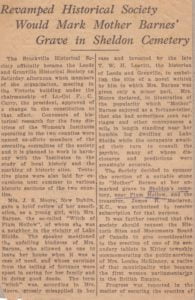 "This article mentions the Sheldon Cemetery in Leeds, Canada," Jan said. "I was there last summer and saw a number of Sheldon gravestones, including the one for my great-great-grandfather, Samuel."
Jan reports that it is still a mystery as to whether he is buried there, or if it is just a memorial marker.
In the newspaper clipping,  the "Mother Barnes" mentioned in the article was a very famous fortune teller in Leeds.
"She lived not far from the Sheldons, and since they may have run a hotel in their home there is speculation that she came to the Sheldon home to tell fortunes for the guests," Jan said.
She continued, "In any case, Mother Barnes must have been friendly with the Sheldons because when the widowed Samuel went to British Columbia to look for gold his children went to various relatives and neighbors. One of the youngest children, Isabella (Bella), went to live with Mother Barnes. (Verified in census records.)"