Sheldon is a small city in southern Vernon County, Missouri. During the last census, the population was determined to be just 543 people living there.+
Sheldon was formed in 1881 when the railroad was extended to that point within the rural county. 
Most interestingly, the city was not named for a man with the surname Sheldon.  Instead, this town was named for Mr. Wright (or Wight), who just happened to have the first name of Sheldon.  As the owner of the land where the town was established, the new city was called Sheldon.  In 1881, a post office opened and has been in operation at Sheldon ever since.
Sheldon is located in south-central Vernon County, just one mile north of the Vernon-Barton county line. But what happened on the other side of the county line a dozen years earlier makes the area most remarkable.
America's Most Famous U.S. Deputy Marshall
Of course, that's Wyatt Earp, but before he headed west, he married Urilla Sutherland. 
This was his first wife, who he married in Barton County, Missouri, just a stone's throw away from Sheldon, Missouri.  Not much is known about Urilla, as Wyatt never talked about her, but her grave can be found, and it has a marker.  It is believed that she died during childbirth.  Follow this link to Find-a-Grave to learn more about Urilla Earp.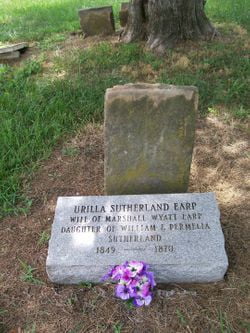 Wyatt took off following the death, only to be later immortalized by his role in the gunfight at the OK Corral in Tombstone, Arizona, which occurred in 1881, the same year Sheldon Missouri was established. Most likely, Wyatt Earp never returned to the area, visited his first wife's grave, and never saw the city of Sheldon.